It's The Hot New Travel Trend
We take the "Alone" out of your vacation because new friends are waiting to meet you! Our trips fill with travel lovers who have no one to join them. Friends bail and they turn to AFS.  Travel alone means you are flexing your Independence and Autonomy! You may be divorced, widowed, married with a spouse who dislikes travel, retired but with a partner unable to join you – so many variables and you want the comfort of a group.  In our groups, you mingle with like-minded people. Be as independent as you like or hang with new friends. It's remarkable how AFSers always bond.   Join our family of thousands of Escape Artists for a fun way to explore the world. We know that shared moments are the best moments!       #Connect
AFS Benefits:
Peace of mind– Fact is, there's strength in numbers. Guided group adventures are safer. Wise travelers know it's the easier softer way to travel.
Save Time– as your QTC (Quality Time Curator), we sort all logistics from A to Z so you can fully embrace your dreamy destination. Now days even millennials are using Travel Advisors with no time to sort through endless online info.
Enhance Your Life – We only go to places that create amazing stories for you to tell in places others dream about and to feel fully alive. Our itineraries are so unique, others copy us. We want you Culture Vultures to collect experiences, not things.
Save Money – Our buying power with our favored global suppliers makes trips affordable with far more value for your investment. No ancillary add-ons and we'll find you a suitable roommate to save more.
Large Fun – AFSers always need something to look forward to and insist on having fun. Let us be your cure for boredom and reboot your spirit. Life is short. You deserve a recess.
Social Connections – It's guaranteed you'll make friends as we explore the planet Together.  Even if memories fade, AFS Friends are forever.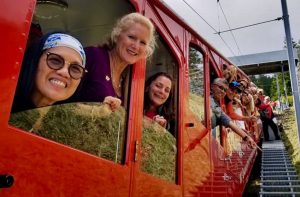 Click to read – Why We're Different!
"Cover all the earth before the earth covers you"