Greetings Travel Lovers,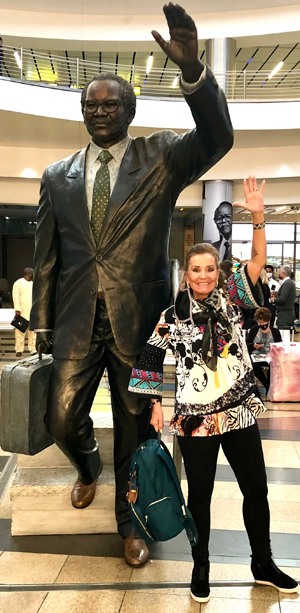 From humble beginnings with big dreams, we now enter our 36th year of inspiring globetrotters with a new design for living.  I marvel at our growth with heartfelt gratitude to thousands now in our travel family!   If you don't know me yet, click here to read the how and why I started AFS.   The greatest reward from my avocation is sharing the world with others and seeing transformations from their sheer joy of exploration.
Together we discover the world, one country at a time. The love of travel always proliferates itself. The more you see, the more you long to see.  Each new place draws us to greater awareness.  It's an education for living. Travel flexes our curiosity, stretches our imagination and allows us to play. The world is our playground and you deserve a recess! With each departure comes the double delights of  pre-trip anticipation, followed by post-trip forever memories.
I know you have high expectations for a thrilling vacation. In designing getaways over decades, I strive to present life-enhancing journeys to extraordinary places others only dream about. Our solo travel groups Bounce farther, not only for Bragging Rights to far-flung places where the most profound moments are made. AFSer's don't want 'touristy cookie-cutter tours', nor do we copy others' itineraries, as others do with us.   They insist on exciting authentic #traveladventures. Our creative itineraries are unique. From cruise vacations, outdoor adventures or solo travel, we are your Concierge of Large Fun!  
I know you want unsurpassed value on your annual vacay investment. Your savings comes from our group buying power.  Our preferred suppliers over decades are like our family providing us with premium accommodations. Our goal is to give you 5-star trips at 3-star prices. It's hassle-free and you'll save time on research or planning. Just countdown the days, come and embrace it all. Let us sweat the small stuff as we Choreograph it all. We are meticulous in providing you with a safe, worry-free trip.
I know you want peace of mind in good hands abroad.  We use only the best local operators referred by Tourist Boards.  Before every AFS escape, you'll get detailed Trip Tips to help you prepare.  Our experienced ground teams and  Gracious AFS Trip Leaders (GTL) are vital to run a smooth trip.  Our vetted, licensed guides are the most reputable in each city and I visit each place before I send you there.
You're in good company.  It's not just where you go but who you go with. With us, you travel solo, not alone.  Check out our AFS Travelers Hall of Fame of those over 10+ trips with us (and Robert H. with 54+ trips with us under his belt.) You couldn't find more kind travel enthusiasts anywhere!  The Zen of our travel groups have a spirit of a community.  They share a common passion for cultural immersion, scenic nature, wildlife and a thirst for large fun. You'll feel welcomed joining us "solo" and return home with a posse of new Forever Friends!  The camaraderie is beyond words and is the ultimate success of the AFS story. Sometimes there's romance, even marriages, 24 so far.  Click here to read  how I met and married Terry on one of our Africa safaris.   We Connect!
Please read more to understand our vision for you at The AFS Difference, our thousands of client reviews in Testimonials and our fabulous real Photo Gallery – no stock pics here.   Read my Trip Intros to learn and to determine which trip makes your heart leap!  Your future self will thank you.  (Call me if you need help choosing.  I have a good picker.)  The world beckons you.  We are your passport for awesome escapes.  As your Travel Architect, all I do is construct dreams.  I remain dedicated to making yours come true.
Your Faithful Dream Weaver,